Sentinel-1 observations follow a strict acquisition planning often referred to as acquisition segments. Information on the planned future acquisition is provided by ESA in form of Keyhole Markup Language (KML) files. A single file usually covers an acquisition period of about 12 days, with the start and stop time of the future planned acquisitions already given in the file name.
KML files are published by ESA on a regular base, well before activation, with potential last-minute changes due to requests from the Copernicus Emergency Management Service (CEMS). Information provided by the KML files are organised based on the planned data takes. Parameters listed in following table are included in the KML. KML files are regularly checked and downloaded at EODC and ingested into the described metadata database for further analysis.
All parameters are exposed as PostGIS layer to extract the requested schedule information indicating the next planned Sentinel-1 GRD acquisition for a given location.
GFM's has a specific product output layer devoted to display the next available overpass for the current day (see next figure, as shown in GloFAS).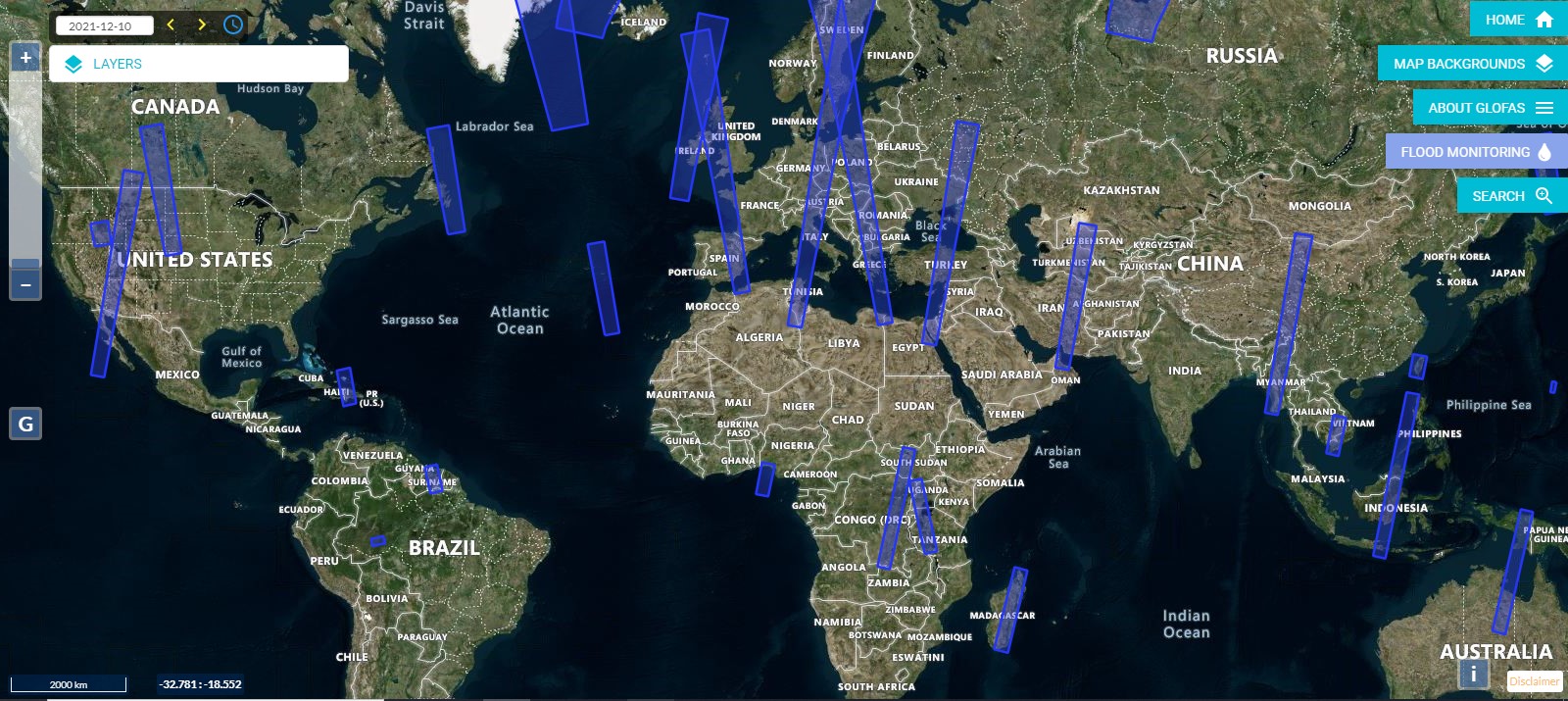 The available information with the next planned S-1 GRD acquisition is showed in the table below.
| | |
| --- | --- |
| Parameter | Description |
| Datatake ID | unique product identifier (hexadecimal) |
| Mode | instrument acquisition mode |
| Observation (duration) | duration of the planned data take (in seconds) |
| Observation (start) | UTC start date and time of the planned data take |
| Observation (end) | UTC end date and time of the planned data take |
| Orbit (absolute) | absolute orbit number at the start time of the data take |
| Orbit (relative) | relative orbit number at the start time of the data take |
| Polarisation | instrument polarisation for the acquired data take |
| Satellite ID | satellite identifier |
| Swath | instrument swath (from 1 to 6 for SM, not applicable for IW and EW) |